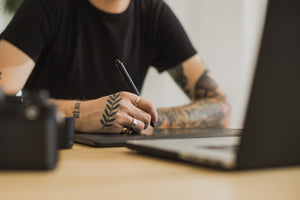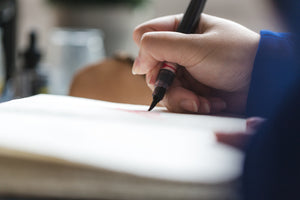 Are you in need of a logo?
You've come to the right place. The Swamp Dog graphic design team has years of experience in making ideas come to life. While specializing in the outdoor industry, we've taken our talents just about anywhere that there is work to do. We embrace the gift and talent of graphic design that God has given us so we don't want to keep that hidden!
What is the process like?
1. We start with consulting. We learn about your business, where it's located, and what you do.
2. We get you to send us examples of logos that you like so that we can get a feel for the style you're going for. 
3. We work up 3-4 initial samples (oftentimes more) to get your mind going.
4. We work back and fourth with you, to finalize your logo, colors, and multiple layouts. We can often nail it down in 3-4 revisions.
5. We export final vector files for you to use anywhere and we're all done!
How much does a logo cost?
All logo projects start at $350. An initial $175 deposit must be paid to start the process. Each project is different and will be quoted out accordingly. However, most of the logos we create fall into the $350-500 range. If we foresee that a project may require more time than the standard logo, we will let you know an estimated price before moving forward with the project. There will be no hidden fees or charges. Our typical turnaround on a logo is 2-3 weeks depending upon your response time and project scope.
How much does it cost to sketch my dog?
All dog sketches are $150. These work great for wedding koozies, napkins, or even just to frame on a canvas as a gift! Our typical turnaround on these is 1-2 weeks. Please reference our examples of previous dog sketches so that you know what to expect when we draw yours. These projects are non-refundable.
How much does it cost to draw my boat?
Boat line drawings have kept us busy for many years and pricing starts at $250. We have you send us a photo of your boat at the angle you'd like it drawn at. From there, we get to work back and fourth until we get to a final version.
What about tee shirt designs?
Tee shirt designs can get very complicated. We try to mainly stick to logos. However, if you feel as though your tee shirt design may be simple, please feel free to reach out!